Europe and cost of cancer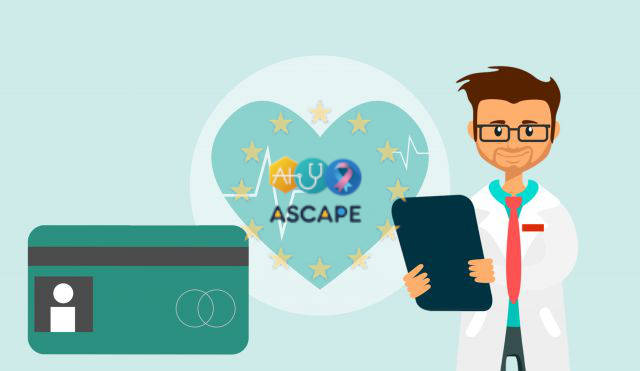 Cancer is one of the leading causes of death worldwide. In the EU alone, every year 3.5 million people are diagnosed with cancer and 1.3 million people die from cancer. And this is projected to increase as the population continues to age. At the same time, the number of cancer survivors is increasing in part thanks to medical advances that have led to a decrease in related deaths. This is a positive development but combined with the rising cost of cancer treatments it is contributing to financial pressure on national health care systems. In economic terms, cancer-related costs in developed economies account for approximately 5% of total health care. At the same time, there are informal costs of care and lost productivity from morbidity.
The 5 ways to provide healthcare services
Most European health care systems at least in principle aim at universal health coverage, efficient care and use of human, financial and material resources, quality of services, and responsiveness to patient demands. The financial pressure associated with providing better healthcare to Europe's aging societies makes it necessary to innovate and use technologies to provide better health care at a reduced cost. As healthcare provision across Europe differs from region to region in terms of legislation and funding, it is useful to review the different structures of EU healthcare systems, both in terms of provision and funding.
In the EU, national and regional healthcare authorities have adopted different types of healthcare systems. There are five main types of healthcare systems:
Social Security Systems: This type provides insurance through competing social funds while being financed by compulsory contributions paid by employers and employees or through taxes. Financial resources go to 'funds' which are regulated non-government entities that employ hospitals, GPs, etc. to provide the services to the insured through budget contracts or through payment by deed. They adopt compensation practices and certain user co-payments. Countries like Germany, France, and Greece adopt this system.
National Health Systems: In this case, the systems are financed through general taxation, and services are provided through the public sector, where treatment is free at the point of care. Health care is based on General Practitioners who decide on specialists and are responsible for a population register. This type manages the State while often demonstrating the coexistence of the private sector. Finally, users often have to share the cost of drugs or specific treatments. Notable examples of this type are the United Kingdom, Spain, Italy, and Sweden.
Free market: Here the State maintains a safety net through public payment of premiums while healthcare services and insurance are offered through the private sector. The US adopts this system
Ex-Semashko: This is a decentralized model followed by Russia and ex-communist countries and restructured into either Beveridge or Bismarck systems
Mapping the healthcare systems of 4 European countries
ASCAPE is running four pilots in 4 European countries (Sweden, Spain, Greece, UK) to assess the potential for interventions to improve the Quality-of-Life of cancer patients as well as the provision of healthcare services both in terms of clinical effectiveness and cost. As part of this effort, it conducted an analysis of the landscape of healthcare services in each of the countries as follows:
Sweden: There are approximately 9,000 women diagnosed with breast cancer each year, while approximately 10,500 men are diagnosed with prostate cancer. The estimated number of breast cancer survivors is 109,000, while the number of prostate cancer survivors is 108,000. The state oversees overall health care policy, laws, and guidance, and supervises the delivery of health care. The central government provides the payments for specific services, while health care services are provided by the regions and municipalities.
Spain: It is estimated that 33,000 women were diagnosed with breast cancer in 2018 and the average annual follow-up/monitoring cost per cancer survivor is calculated for each stage, ranging from €172 from stage 0, rising to €908 to €1166 per stage I; II and III and reaching €17,879 per stage IV. Spain's health care system that supports these patients is tax-based, where responsibility for health care is largely devolved to Spain's 17 regions, the autonomous communities.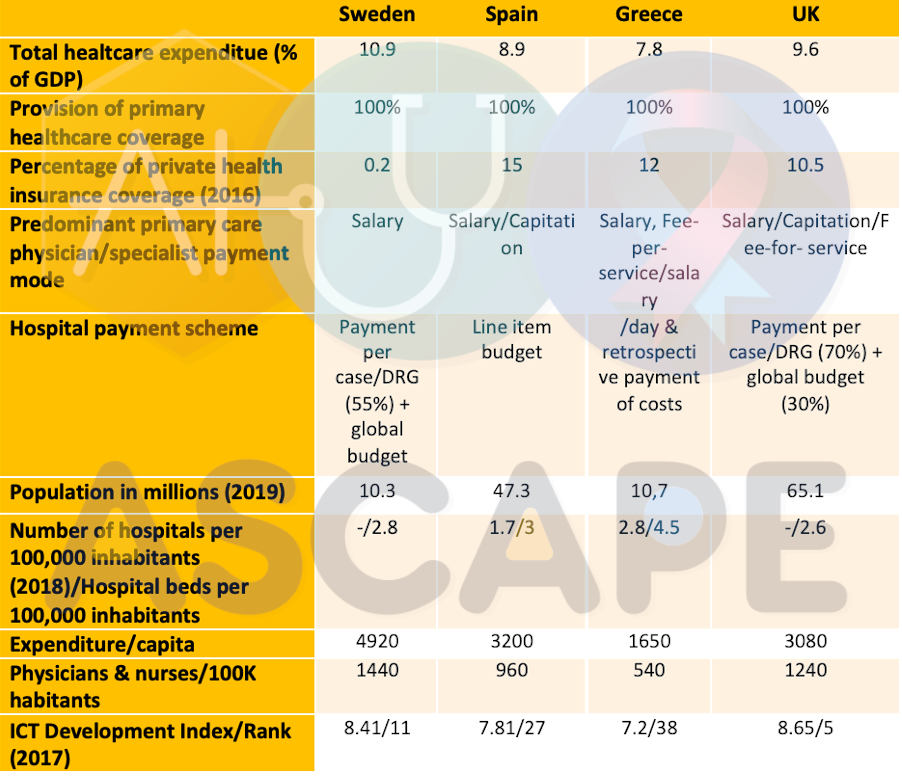 Greece: In Greece, more than 8,000 were diagnosed with breast cancer in 2018. The estimated 5-year prevalence of breast cancer is 30,176 women according to the International Agency for Research on Cancer. To support these patients, Greece relies on compulsory social insurance. There is also a voluntary private health insurance scheme.
UK: In this country, almost 55,000 breast cancer and 48,000 prostate cancer patients are diagnosed every year.

In the UK's public health system (the National Health Service, NHS),

physicians

are not paid by patients but by the NHS itsel

f

. The payment scheme is based on a combination of salary, reimbursement, allowances, and other fees.