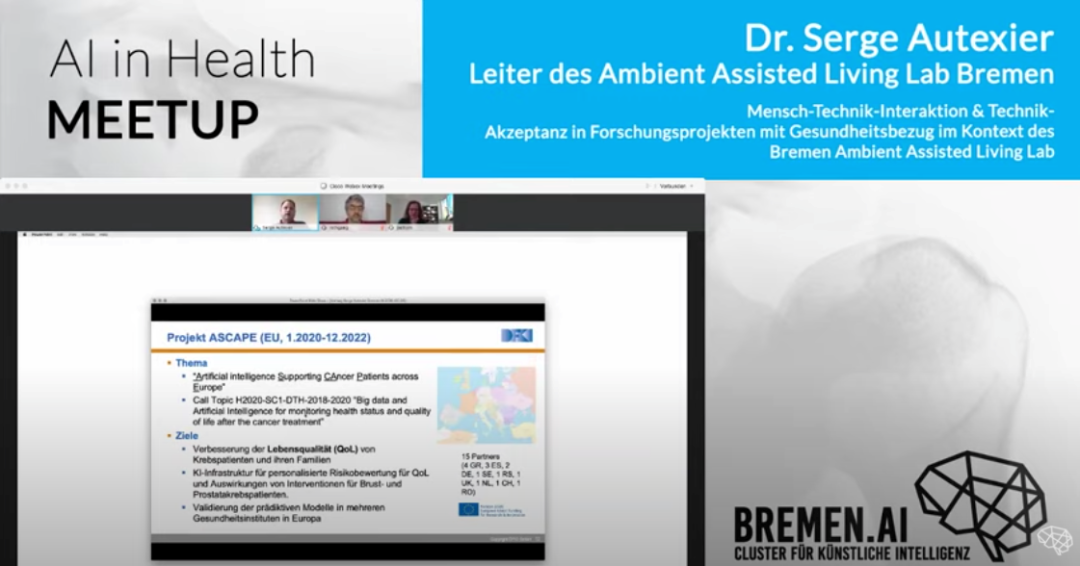 BREMEN.AI is the official cluster for Artificial Intelligence in Bremen and the surrounding area and stands for the development of a strong Bremen AI ecosystem. BREMEN.AI organises the regular exchange of information between the AI scene and its players and, as a catalyst for Bremen's AI industry, promotes networking and knowledge transfer between industry and science with effective measures. Furthermore, BREMEN.AI promotes the matching of local AI jobs with talents, encourages the further settlement of AI talents, research institutions and companies and increases the supra-regional visibility of Bremen as a national and international AI hotspot. The health sector offers huge potentials for the use of artificial intelligence. In this context, the AI IN HEALTH meet-ups present applications for the health sector and address several ethical issues related to the health sector.
During the second AI IN HEALTH meet-up that was devoted to 'AI in Care', Dr. Serge Autexier from DFKI gave a presentation on human-technology interaction and technology acceptance in health-related research projects in the context of the Bremen Ambient Assisted Living Lab (BAALL). The ASCAPE project was presented as one of the two main projects of the BAALL research group that is aiming at using AI/Machine Learning technologies to improve healthcare in a personalized and innovative manner.
The video recording of the entire meet-up (for German speakers) is available on YouTube at: https://www.youtube.com/watch?v=atzFJLoVYro.